Products in this range
Matching Gates Available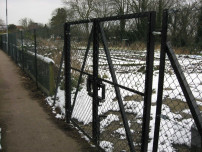 Get a quote
Custom Gate Specialists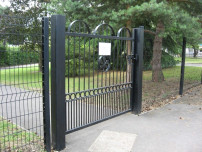 After considering a fence system, why not make a lasting impression?
We offer fully customisable and affordable options.
Get a quote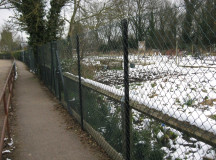 Specifications
Chain link fencing is produced from galvanised wire with a protective plastic coating, and produced with either defensive barbs along one edge and knuckles along the other edge, knuckles along both edges, supplied with separate line wires. Product complies with EN 10223-4 standard.
Chain link is a multipurpose fencing made from wires woven into a diamond pattern.
We supply most heights and gauges of chain link fencing from 900mm high through to 3.6m high in the finish of options of:
Fully galvanised (Class A), Commercially galvanised (Class D), or plastic coated (on a commercially galvanised wire core).
We are able to supply our chain link in the following gauges:
Galv Finish – 2.5mm, 3mm 3.55mm
Plastic Coated (Green RAL 6005 or Black RAL 9005) – 2.50/1.70mm, 3.15/2.24mm, 3.55/2.50mm, 4mm/3mm, 4.75/3.55mm.
SUPER 70 CHAIN LINK FENCING
Super 70 chain link is manufactured from high- tensile steel wire with over twice the strength of traditional chain link fencing. Unique green coating gives the fence longer life.
Rolls are available in heights from 1800-2750mm with a standard mesh size of 50x50mm.
Wire diameters available are 3.00 and 3.55mm. Top and bottom edges of fence are available in either barbed or knuckled finish or a combination of both.
Longer life fence, the wire is galvanised to BS 433 prior to unique green treatment which increases resistance to white rust corrosion.
Manufactured throughout from high tensile steel wire (70 tpsi) – over twice the strength of traditional galvanised chain link fencing.
Chain link is available compact wound and palletised presentation.
Coating – Galvanised to BS433 and unique green treatment.
BS1722 PART 1 AND BS1722 PART 10 FENCES
Headstart Fencing (Supplies) Ltd supply chain link and fencing ironwork to meet the requirements of the aforementioned British Standards and therefore supply matching steel fence posts and gates in the following options to compliment the chain link.
· Rolled Steel Angle
· Square Hollow Section
· Circular Hollow Section
Steel work finishes are available in painted, primed only, galvanised and galvanised and polyester powder coated.
TENNIS COURT FENCING

Headstart Fencing (Supplies) Ltd have many years experience in the supply of chain link fencing and ironwork for tennis courts which would be made up from the above options.
Please see our dedicated Tennis Court Page.
Applications
Parks & Gardens
Residential sites
Rural areas for zoning off breeding areas
Orchards
Industrial Areas
Warehouses
Factories
Commercial premises
Sports Fields
Tennis Courts

Our fencing can be supplied in a choice of standard ral colours, however we can match your corporate colours/school colours to suit your company/school livery if required.
Please use the link for one of the industrys major powder coaters for colours available www.northpoint.ltd.uk