Products in this range
Custom Gate Specialists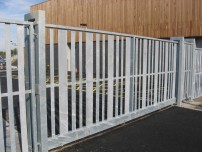 After considering a fence system, why not make a lasting impression?
We offer fully customisable and affordable options.
Get a quote
Specifications
Protecting your investment, your assets and your security, permanently and reliably: that is the task to which HFS INOVA sliding gates are ideally suited.
What makes them so outstanding is the unique, patented design: the drive unit on HFS INOVA sliding gates is housed invisibly inside the lower beam, instead of being mounted on the inside edge of the gate leaf itself, as is the case with conventional gates.
This cantilevered design, brilliant in its simplicity, has already won severeal prizes, and justifiably so, given the numerous advantages it offers.
Applications
Schools
Offices
Company Premises
Residential
Industrial
Stately Homes
Advantages
Far fewer components are needed compared with conventional sliding gates.
Drive unit is totally protected against the elements, dirt and debris.
Highly reliable in use.
Stylish appearance, because the drive unit is concealed invisibly within the lower beam.
Minimal foundation work is required.
Gate runs perfectly smoothly even in snow and harsh working environments.

Our fencing can be supplied in a choice of standard ral colours, however we can match your corporate colours/school colours to suit your company/school livery if required.
Please use the link for one of the industrys major powder coaters for colours available www.northpoint.ltd.uk