Products in this range
Matching Gates Available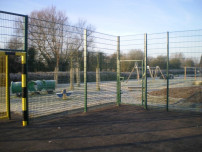 Get a quote
Custom Gate Specialists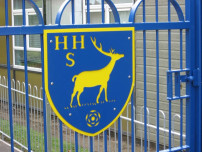 After considering a fence system, why not make a lasting impression?
We offer fully customisable and affordable options.
Get a quote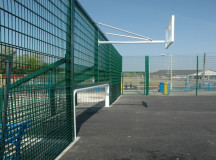 Download Q40

Specifications
HFS Rebound is a rigid mesh fencing system. It is often used around sports enclosures and is ideal for Multi Use Games Areas where a strong mesh fencing system is required.
The top section of the panel has a 200x50mm mesh as the HFS Double Wire and the lower 1.2m of the panel has two sets of additional double wires welded into each vertical at 66.6mm centres.
HFS Rebound panels are then fixed to strong rolled hollow section posts using stainless steel security fixings and a full-length clamp strip.
Heights available 1230mm,2030mm, 3030mm,
3670mm,4070mm,4470mm,5070mm,6100mm
With our help you can design your very own sports pitch in just a few easy steps. By providing us answers to the following:
a. Type of mesh panel (double wire or rebound)
b. Height required
c. Quantity of gates and gate width
d. Any extras e.g. double skin option, radiused corners, rebound board option (to be confirmed with approved contractor) basket ball hoop option.
e. Number of goal recesses
We can supply only or supply and fit these products.
Options

Double skin option

If you are planning mugas side by side, our double skin option is available and we recommend for the internal fencelines, that seperate the courts. This will ensure an ideal rebound fence to each court. Panels would be erected to both sides of the post to give a double skin to each court.
Hockey rebound board option

Panels can be supplied with fixings so a hockey board can easily be attached to the bottom of the fence.
Radius Corners

We offer a radius corner upgrade , which is ideal when the court is used for contact sport as this provides safety to the participents.
Cranked Tops
We can incorporate cranked extension arms to your ball court, which helps secure your court,deterring climbing and also contains the ball being used. Can be supplied in lengths of 600mm, 800mm or 1000mm at a 45 degree angle normally inward leaning but outward leaning on request.
See our GOALS page for basket ball hoop, recesses and goal options.
Applications
Schools
Sports Grounds
MUGAS
Advantages
Excellent for Sports Use
Security Fixings
Excellent ball rebound
Good visibility
Full length clamp strip
Polyester Powder Coated to a choice of colours

Our fencing can be supplied in a choice of standard ral colours, however we can match your corporate colours/school colours to suit your company/school livery if required.
Please use the link for one of the industrys major powder coaters for colours available www.northpoint.ltd.uk