PRIVACY SCREEN FENCING
Kids at play, Keep prying eyes away
HFS Shade Screen
Cost Effective
School Safety

PRIVACY SCREEN FENCING
Kids at play, Keep prying eyes away
HFS Shade Screen
Cost Effective
School Safety

PRIVACY SCREEN FENCING
Kids at play, Keep prying eyes away
HFS Shade Screen
Cost Effective
School Safety

PRIVACY SCREEN FENCING
Kids at play, Keep prying eyes away
HFS Shade Screen
Cost Effective
School Safety

PRIVACY SCREEN FENCING
Kids at play, Keep prying eyes away
HFS Shade Screen
Cost Effective
School Safety

PRIVACY SCREEN FENCING
Kids at play, Keep prying eyes away
HFS Shade Screen
Cost Effective
School Safety

PRIVACY SCREEN FENCING
Kids at play, Keep prying eyes away
HFS Shade Screen
Cost Effective
School Safety

PRIVACY SCREEN FENCING
Kids at play, Keep prying eyes away
HFS Shade Screen
Cost Effective
School Safety

PRIVACY SCREEN FENCING
Kids at play, Keep prying eyes away
HFS Shade Screen
Cost Effective
School Safety

PRIVACY SCREEN FENCING
Kids at play, Keep prying eyes away
HFS Shade Screen
Cost Effective
School Safety

PRIVACY SCREEN FENCING
Kids at play, Keep prying eyes away
HFS Shade Screen
Cost Effective
School Safety

Kids At Play Keep Prying Eyes Away
HFS Shade Screen
Cost Effective
School Safety

PRIVACY SCREEN FENCING
KIDS AT PLAY, KEEP PRYING EYES AWAY

Shade Screen and Ball Stop Netting
SPORTS NETS & MESH SHADE NETTING
VISUAL SCREEN & WIND BREAK NETTING

Shade Screen and Ball Stop Netting
SPORTS NETS & MESH
SHADE NETTING
VISUAL SCREEN & WIND BREAK NETTING

Shade Screen and Ball Stop Netting
SPORTS NETS & MESH
SHADE NETTING
VISUAL SCREEN & WIND BREAK NETTING

Shade Screen and Ball Stop Netting
SPORTS NETS & MESH
SHADE NETTING
VISUAL SCREEN & WIND BREAK NETTING
Products in this range
Matching Gates Available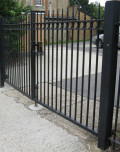 Get a quote
Custom Gate Specialists
After considering a fence system, why not make a lasting impression?
We offer fully customisable and affordable options.
Get a quote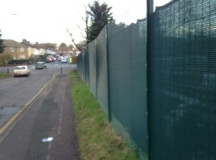 Specifications
Headstart Fencing (Supplies) Ltd, with over 30 years experience of supplying shade screens and we are specialists in school fence screen solutions.
Visual Screen and Windbreak
We supply a full range of mesh densities to provide effective windbreaks or a total visual screen.
These types of screening are used in the School, Security, Sports and Events Industry and are available in Several Colours sizes and Densities. The most popular is the 95% screen. We also offer a 85% Density which is available in various colours including Green, Black, White, Red and Blue.
Standard rolls sizes are either 1.86m or 3.66m wide and 50m of 100m in length.
School Shade Screen
Our HFS LS 95% shade screen supplied with webbing, brass eyelets & tyes, is a popular choice with our school clients looking to keep prying eyes away around sensitive areas of school..
Provide us with the height and length required and we will quote by return.
Security
We supply all types of security fencing including mesh fencing systems, weldmesh, chainlink and palisade. Security fencing can be combined with ball stop netting to provide a secure barrier at the bottom of the fence with a more attractive netting higher up.

Sports
Headstart Fencing (Supplies) Ltd offer a range of netting and shade products for various sports, covering football, golf, tennis, cricket and many other sports.
Multi Games Area
We provide fencing used for multi games areas (see
HFS rebound fencing
these can include full roof net options.
Applications
School Play Areas
Sensitive Areas of School
Car Dealerships
Pet Areas
Greenhouses

Our fencing can be supplied in a choice of standard ral colours, however we can match your corporate colours/school colours to suit your company/school livery if required.
Please use the link for one of the industrys major powder coaters for colours available www.northpoint.ltd.uk