Bow Top Fencing
HOOPED TOP RAILINGS

Bow Top Fencing
HOOPED TOP RAILINGS

Bow Top Fencing
HOOPED TOP RAILINGS

Bow Top Fencing
HOOPED TOP RAILINGS

Bow Top Fencing
HOOPED TOP RAILINGS

Bow Top Fencing
Hooped Top Railings

Bow Top Fencing
HOOPED TOP RAILINGS

Bow Top Fencing
HOOPED TOP RAILINGS

Bow Top Fencing
HOOPED TOP RAILINGS

Bow Top Fencing
HOOPED TOP RAILINGS

Bow Top Fencing
HOOPED TOP RAILINGS
Products in this range
Matching Gates Available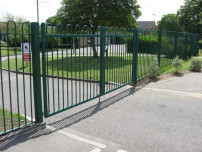 Get a quote
Custom Gate Specialists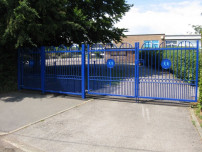 After considering a fence system, why not make a lasting impression?
We offer fully customisable and affordable options.
Get a quote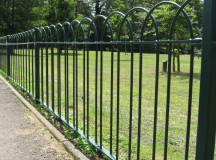 Specifications
Headstart Fencing Supplies Ltd provide the most comprehensive range of Bow Top Fencing available. From the cost effective Single Bow to a more elaborate design, we have a fence to suit every requirement. We can supply only or supply and fit.
Bow Top Fencing can be supplied in standard panels or manufactured in non-standard length, raked or radiused panels to suit individual requirements.
Bow Top is manufactured as a minimum to comply with BS1722 part 9 where applicable and is available Hot Dip Galvanised to BS EN ISO 1461 or Galvanised and Polyester Powder coated and in heights ranging from 600mm to 2000mm.Gates in any width or height can be manufactured to suit all our Bow Top designs. Or see our Custom Gates.
For further privacy, please see our HFS Shade Screen LS , which can simply be attached to this fencing using plastic tyes.

PRIVACY SCREEN, PRIVACY SCREEN FENCING, PLAYGROUND FENCING, SCREEN FENCING
Applications
Education
Leisure
Playgrounds
Parks
Industrial
Advantages
Complies with BS1722 part 9
Hot Dip Galvanised to BS EN ISO 1461
Welded Construction
Security Fixings
Hard to Climb
Difficult to Cut Through
Visibility Good
Polyester Powder Coated to a choice of colours

Our fencing can be supplied in a choice of standard ral colours, however we can match your corporate colours/school colours to suit your company/school livery if required.
Please use the link for one of the industrys major powder coaters for colours available www.northpoint.ltd.uk