HFS Double Wire Perimeter
Twin Wire Fencing

HFS Double Wire Perimeter Fencing
Twin Wire Fencing

HFS Double Wire Perimeter Fencing
Twin Wire Fencing

HFS Double Wire Perimeter Fencing
TWIN WIRE FENCING

HFS Double Wire Perimeter Fencing
TWIN WIRE FENCING

HFS Double Wire Perimeter Fencing
TWIN WIRE FENCING
Products in this range
Matching Gates Available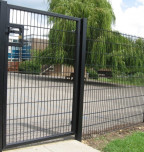 Get a quote
Custom Gate Specialists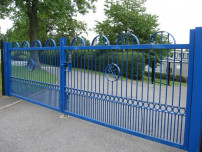 After considering a fence system, why not make a lasting impression?
We offer fully customisable and affordable options.
Get a quote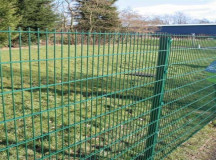 Download Q40

Specifications
HFS Double Wire systems have previously been used in sports and also for general perimeter protection of schools, public and private sector buildings. The strength within the panels is gained by sandwiching a 6mm (nom) vertical wire between two 8mm (nom) horizontal wires. This produces a fence with high resistance to vandalism.
The HFS Double Wire Perimeter system panels are supplied in a 200mmx50mm maximum size aperture and are then fixed via clips to the front face of the hollow section posts into threaded inserts.
This system is available in a range of heights from 1030mm high to 2430mm high using 60x40 square hollow section posts at 2530mm centres.
Where a lighter protection of fencing system is required due to budget constraints, we offer the double wire perimeter system as a 6mm/5mm/6mm nominal configuration.
This product can be supplied only or supplied and fitted.
For further privacy, please see our HFS Shade Screen LS , which can simply be attached to this fencing using plastic tyes.
PRIVACY SCREEN, PRIVACY SCREEN FENCING, PLAYGROUND FENCING, SCREEN FENCING
Applications
Schools
Sports Grounds
Parks
Commercial
Industrial Estates
Allotments
Advantages
Excellent for Sports Use
Security Fixings
Hard for would be intruder to cut through
Ideal for many applications
Good visibility
Polyester Powder Coated to a choice of colours

Our fencing can be supplied in a choice of standard ral colours, however we can match your corporate colours/school colours to suit your company/school livery if required.
Please use the link for one of the industrys major powder coaters for colours available www.northpoint.ltd.uk