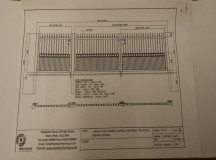 Specifications


Q40 SERVICE
Headstart Fencing (Supplies) Ltd offer a Q40 service which is geared to our standard products, which can be viewed and downloaded from this site.
If you require a Q40 for other products we supply, then please contact us.
We offer this service not only to specifers, but to local authorities, parish councils and schools.
This service has been very successful, when working with school and parish council clients, and works as follows.
We realise that a school or parish council fencing project may not be the easiest thing to bring together, so we have a tried and trusted simple to follow formula designed to help you!
1. Speak to us and explain what you are looking to achieve, ie A perimeter fence (medium/high security), new railing type fence to the front of school with entrance gates, replacement of existing tennis court with a multi use games area, to name but a few.
We will give unbiased advice (based on our 30+ years industry experience) and help you with the options available and what you should be asking a contractor to price for.
2.We are able to supply you with a Q40 for the fencing products required.
What is a Q40? This is a bill that shows detail of the required product , showing the exact specification, where it should be purchased and instructions to be adhered to when a contractor erects your fence.
This ensures you are quoted for exactly what you require and in a competitive tender situation, that each contractor prices for exactly the same specification product from the same supplier.
3. We are able to supply you with details of contractors from our approved lists ,who have worked with us for many years, who can quote you for your fencing project. Or if you have contractors you already use, then the same would apply and we would price them for the agreed products.
4. Once an agreement has been reached with a contractor, we can supply CAD drawings of the fence and where applicable gates, for further approval.
5.Sounds good? So what's in it for us? Our company product specification and supply of the materials to the contractor is all we require, no on costs to you !
CAD DRAWING SERVICE
Headstart Fencing (Supplies) Ltd has made fencing drawings available from our standard product range. This means it is easier, quicker and more cost-effective for architects to utilise standard designs of mesh fencing systems, sports fencing, railings, swing gates etc.
If you are a specifier of fencing systems and like what you have seen from our website and would like to specify us on a future project, then please send a quick email detailing your project and which of our products you wish to use, then let us do the rest!
Headstart's comprehensive and competitively priced range of standard fencing, railings and gates gives architects and specifiers an exceptionally wide choice of options for projects ranging from commercial premises and retail parks, to schools and playing fields. In addition, our drawings for standard gates can be used as the starting point for our customised designs. If required, Headstart Fencing can also work from architects' drawings to fabricate bespoke fencing, railings and gates in virtually any style or colour.
Our fencing can be supplied in a choice of standard ral colours, however we can match your corporate colours/school colours to suit your company/school livery if required.
Please use the link for one of the industrys major powder coaters for colours available www.northpoint.ltd.uk