Products in this range
Custom Gate Specialists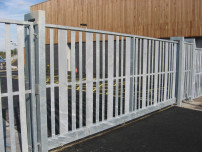 After considering a fence system, why not make a lasting impression?
We offer fully customisable and affordable options.
Get a quote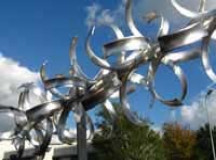 Specifications
Unlike broken glass or razor wire, which can form mantraps, or impaling spikes which are often illegal and can also present a dangerous hazard to employees working overhead or nearby. Vandgard is not designed with intent to cause serious harm, it's rotating action creates an unstable anti climb barrier which rolls if anyone attempts to climb over it. Visually it is a clear warning in itself and so does not contravene either the Health or Safety at Work Act, COSHH regulations or any other civil or criminal laws.
Vandgard can be used in all situations where serious vandalism or theft is likely and particularly where Public Liability legislation applies. Also in environmentally sensitive areas where an inoffensive appearance is important. Examples include commercial and industrial sites, schools, vehicle parking areas, domestic, sports and leisure areas.
Our Anti climb spikes are simple to install, cost-effective and attractively designed. Vandgard provides the all-round security solution to perimeter protection.
Vandgard can also be referred to as the following:-
Raptor.
Applications
Commercial & Industrial
Car Parks
Domestic property
Sports &Leisure areas
Schools
Communications towers
Electricity pylons
Eaves protection
Drain Pipes
Fences, walls, gates, steel palisades
Poles and towers for CCTV cameras
Soil Stacks
Advantages
Good Looking
Effective
Inexpensive
Easy to Install
Non Man Trap
Durable
Anti Climb
Many Uses
Does not contravene Health & Safety at Work Act

Our fencing can be supplied in a choice of standard ral colours, however we can match your corporate colours/school colours to suit your company/school livery if required.
Please use the link for one of the industrys major powder coaters for colours available www.northpoint.ltd.uk