Steel Palisade Fencing
Security Fencing

Steel Palisade Fencing
Security Fencing

Steel Palisade Fencing
Security Fencing

Steel Palisade Fencing
Security Fencing

Steel Palisade Fencing
Security Fencing

Steel Palisade Fencing
Security Fencing

Steel Palisade Fencing
Security Fencing

Steel Palisade Fencing
Security Fencing

Steel Palisade Fencing
SECURITY FENCING

Steel Palisade Fencing
SECURITY FENCING

Steel Palisade Fencing
SECURITY FENCING

Steel Palisade Fencing
SECURITY FENCING

Steel Palisade Fencing
SECURITY FENCING
Products in this range
Matching Gates Available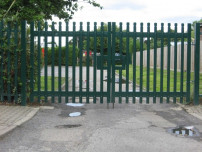 Get a quote
Custom Gate Specialists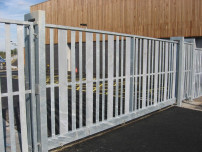 After considering a fence system, why not make a lasting impression?
We offer fully customisable and affordable options.
Get a quote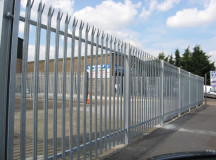 Specifications
Steel Palisade provides a physical and visible deterrent against intruders. The versatile design can accommodate all site requirements which may include bespoke hole positions, three rails, extensions for barbed wire and extended pales for burying in the ground or concrete sills.
Steel Palisade can be powder-coated in virtually any colour. Steel Palisade is manufactured in both the standard 'D' and 'W' profile in a variety of thicknesses. Panels are normally supplied loose for assembly on site in bays of 2.75m. Bays can be supplied pre-assembled; a fully welded option is also available. We can supply only or supply and erect this system.
Heights:

1200mm , 1500mm, 1800mm, 2000mm, 2100mm, 2400mm, 3000mm and 4000mm
Pale Heads:

Triple pointed and splayed, triple pointed, rounded, rounded and notched, single point
Pale Profiles:

'D' section 2.5/3.0/3.5mm
'W' section 2.0/2.5/3.0mm
Post Section:

RSJ - size according to fence height.
Finish:

Galvanised or galvanised and PPC
For further privacy, please see our HFS Shade Screen LS , which can simply be attached to this fencing using plastic tyes.
PRIVACY SCREEN, PRIVACY SCREEN FENCING, PLAYGROUND FENCING, SCREEN FENCING
Applications
Commercial
Industrial
Utilities
Schools
Security
Advantages
Hard to climb
Difficult to cut through
Hot dipped galvanised to BS EN ISO 1461:1999
Provides a physical and visible deterrent against intruders
Polyester Powder Coated to a choice of colours

Our fencing can be supplied in a choice of standard ral colours, however we can match your corporate colours/school colours to suit your company/school livery if required.
Please use the link for one of the industrys major powder coaters for colours available www.northpoint.ltd.uk