Spectator Rail
PITCH SPECTATOR RAIL
PITCH BARRIER
PERIMETER FENCING
SPORTS PITCH FENCING

Spectator Rail
PITCH SPECTATOR RAIL
PITCH BARRIER
PERIMETER FENCING
SPORTS PITCH FENCING

Spectator Rail
PITCH SPECTATOR RAIL
PITCH BARRIER
PERIMETER FENCING
SPORTS PITCH FENCING

Spectator Rail
CYCLE TRACK FENCING
PERIMETER FENCING
SPORTS PITCH FENCING

Spectator Rail
CYCLE TRACK FENCING
PERIMETER FENCING
SPORTS PITCH FENCING

Spectator Rail
CYCLE TRACK FENCING
PERIMETER FENCING
SPORTS PITCH FENCING

Spectator Rail
CYCLE TRACK PERIMETER FENCING
SPORTS PITCH FENCING

Spectator Rail
CYCLE TRACK PERIMETER FENCING
SPORTS PITCH FENCING

Spectator Rail
CYCLE TRACK PERIMETER FENCING
SPORTS PITCH FENCING

Spectator Rail
CYCLE TRACK PERIMETER FENCING
SPORTS PITCH FENCING

Spectator Rail
CYCLE TRACK PERIMETER FENCING
SPORTS PITCH FENCING

Spectator Rail
CYCLE TRACK PERIMETER FENCING
SPORTS PITCH FENCING

Spectator Rail
CYCLE TRACK PERIMETER FENCING
SPORTS PITCH FENCING

Spectator Rail
CYCLE TRACK PERIMETER FENCING
SPORTS PITCH FENCING

Spectator Rail
CYCLE TRACK PERIMETER FENCING
SPORTS PITCH FENCING

Spectator Rail
CYCLE TRACK PERIMETER FENCING
SPORTS PITCH FENCING
Products in this range
Matching Gates Available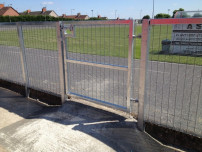 Get a quote
Custom Gate Specialists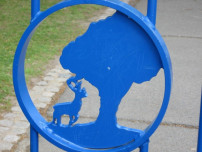 After considering a fence system, why not make a lasting impression?
We offer fully customisable and affordable options.
Get a quote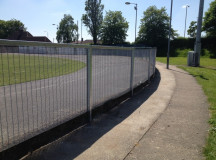 Specifications
Spectator Rail is ideally suited for sports grounds and facilities requiring a boundary fence, it provides a pitch surround, combining double wire mesh with infill choices, 66x50 (rebound), or 200x50 (non rebound) and a tubular hand rail for spectators. Spectator Rail combines good looks with safety. It is available with or without filler panels. Also available with handrail only, for pathways leading to sports areas. It may be colour coated to suit any fencing surround.
HFS 358 Track
This option is used around cycle tracks or general sports grounds to demarcate the cycle or playing area from the viewing area.
It is manufactured using a strong rectangular hollow section frame, with durable 358 mesh securely clamped to the face, with full length clamp strips and fixed with anti vandal security threaded insert fixings. The 358 mesh panel has a small aperture and so is ideal for cycle tracks, as it helps keep litter off the track, whilst being strong and secure.
The HFS 358 Track is 1.27m high x 2.44m post centres. This system is adaptable, and can be clad to various mesh panel options, (please note height and post centres would be different depending on the mesh panel chosen).
The above can be supplied only or supplied and fitted.
Applications
Sports Pitches
Pathways leading to sports areas
Cycle Tracks
Athletics Tracks
Advantages
Safety to Spectators
Safety to sporting participants
Aesthetically Pleasing
Demarcation from walkway to sporting area
Polyester Powder Coated to a choice of colours
Rebound mesh option available

Our fencing can be supplied in a choice of standard ral colours, however we can match your corporate colours/school colours to suit your company/school livery if required.
Please use the link for one of the industrys major powder coaters for colours available www.northpoint.ltd.uk