Products in this range
Matching Gates Available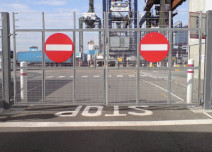 Get a quote
Custom Gate Specialists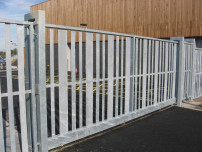 After considering a fence system, why not make a lasting impression?
We offer fully customisable and affordable options.
Get a quote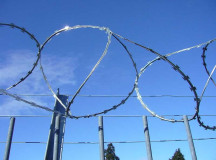 Specifications
A modern, cost-effective alternative to barbed wire, razor wire presents cutting surfaces throughout – preventing hand holds at any point. It is an effective solution to high security needs.
Ref: 4M 4S 7M 7S 9M 9S 200MU 200SU

Size mm: 455 455 710 710 965 965 200 200
Clip No: 3 3 5 5 5 5 n/a n/a
Coil Length: 10m 10m 11m 11m 12m 12m 200m 200m
Loops/coil: 55 55 55 55 55 55 n/a n/a
Blade: Med Short Med Short Med Short Med Short

Razor Wire can also be referred to as:-
Barb Tape, Flat Wrap, Ultra Barb.
Applications
Commercial & Industrial
Car Parks
Fences, walls, gates, steel palisades
Advantages
Inexpensive
Effective
Light Weight
Many Uses

Our fencing can be supplied in a choice of standard ral colours, however we can match your corporate colours/school colours to suit your company/school livery if required.
Please use the link for one of the industrys major powder coaters for colours available www.northpoint.ltd.uk