Products in this range
Matching Gates Available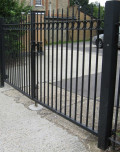 Get a quote
Custom Gate Specialists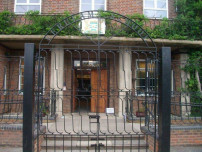 After considering a fence system, why not make a lasting impression?
We offer fully customisable and affordable options.
Get a quote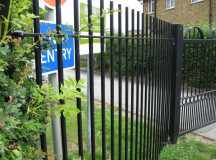 Specifications
When a traditional, long lasting, solid boundary fence is required, choose Vertical Bar Steel Railings. Ranging in height from 1.2m to 2m, Vertical Bar Steel Railing is available with blunt, spiked or domed tops and, for a more individual appearance, the cranked, convex or turret options are available.
A perfect option to our vertical bar steel railing fence is adding a FINIAL top to each vertical and post. We have many standard designs and finials can even be supplied to your own ideas if required.
Non-standard length, raked, radiused or stepped panels can be manufactured to individual requirements, along with matching gates our Custom Gates in any width or height.
Vertical Bar Steel Railing is supplied as standard using square hollow section or rolled steel joist posts, with angle cleats and security fixings, round bar verticals spaced with a maximum gap of 100mm, square bar verticals can also be supplied if required. The vertical bar steel railing diameter increases as the fence height increases to meet with BS 1722 part 9.
Finish is either Hot Dip Galvanised to BS EN ISO 1461 or Galvanised and Polyester Powder Coated.
By the addition of one of Headstart Fencing (Supplies) Ltd's Finial Heads, Vertical Bar Steel Railings can be further enhanced to become an extremely attractive feature fence. Many designs are available and Headstart Fencing (Supplies) Ltd can match your existing fencing where possible.
For further privacy, please see our HFS Shade Screen LS , which can simply be attached to this fencing using plastic tyes.
PRIVACY SCREEN, PRIVACY SCREEN FENCING, PLAYGROUND FENCING, SCREEN FENCING
Applications
Education
Industrial
Parks
Security
Residential
Licensed Premises
Advantages
Complies with BS 1722 part 9
Hot Dip Galvanised to BS EN ISO 1461
Polyester Powder Coated Option
Many designs and finial head type available
Hard to Climb
Polyester Powder Coated to a choice of colours

Our fencing can be supplied in a choice of standard ral colours, however we can match your corporate colours/school colours to suit your company/school livery if required.
Please use the link for one of the industrys major powder coaters for colours available www.northpoint.ltd.uk