Products in this range
Custom Gate Specialists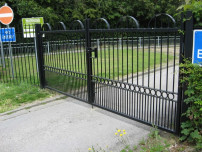 After considering a fence system, why not make a lasting impression?
We offer fully customisable and affordable options.
Get a quote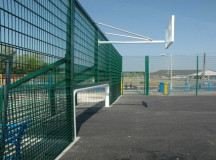 Specifications
Recessed goalmouths 3m wide x 1.2m deep with lintel panels above 2m high as standard, though virtually any requirement can be catered for. Recesses for goals supplied by customer (and having no lintel) are standard.
Independent goal posts with top bar constructed in 90mm OD tube and in addition independent goal and basketball units can be supplied only, or supplied and installed.
Basketball Set-ups:
The panels comprise single 5mm wires and single 5mm vertical wires. The mesh is 200 x 50mm. The standard panel is 2500mm wide and is available in heights 1000mm to 2400mm as standard.
Cranked Arms to Main Fencing::
Assists with ball retention within court.
Can be supplied in lengths of 600mm, 800mm or 1000mm at a 45 degree angle normally inward leaning but outward leaning on request.
Finish:
Galvanised and polyester powder coated. Goal areas normally white but choices available. Standard colours: RAL 6005 green, 9005 black, 5010 blue, 3000 red, 9010 white Other colours: All other RAL colours available.
Applications
Schools
Sports Grounds
MUGAS
Advantages
Tailor made accessories to meet any need
Escape gaps if required
Chicanes if required
Plenty of options
Cost effective

Our fencing can be supplied in a choice of standard ral colours, however we can match your corporate colours/school colours to suit your company/school livery if required.
Please use the link for one of the industrys major powder coaters for colours available www.northpoint.ltd.uk